A rare early Louis XV casket by Pérille à Moulins
First half of the XVIIIth century
Height : 15 cm
Width : 22,5 cm
Depth : 17 cm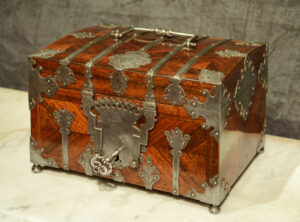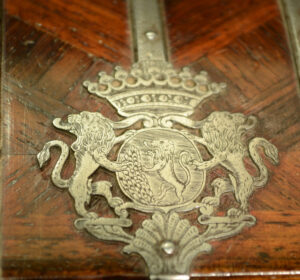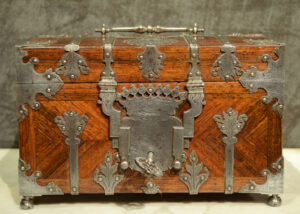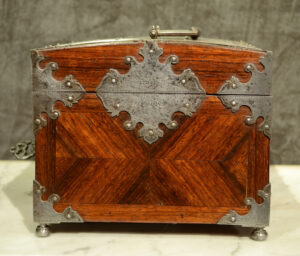 A rare early Louis XV casket by Pérille à Moulins
First half of the XVIIIth century
Height : 15 cm
Width : 22,5 cm
Depth : 17 cm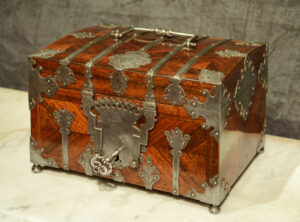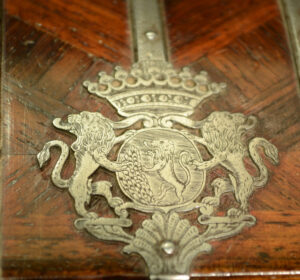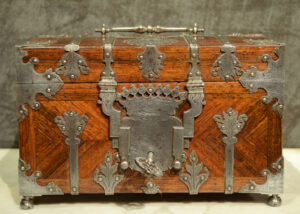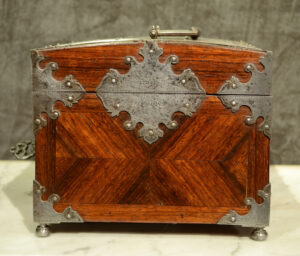 A rare early Louis XV casket by Pérille à Moulins
First half of the XVIIIth century
Height : 15 cm
Width : 22,5 cm
Depth : 17 cm
Beautiful and rare Louis XV period box, in rosewood veneer and steel fittings, signed Perille in Moulins, and bearing  coat of arms with a count crown.
Rectangular in shape, the box is richly inlaid with baguettes finished with fleurons and spandrels also with fleurons. The slightly convex lid is equipped with a mobile handle and bears a cartouche with the arms which seem to be those of Philibert Orry, Count of Vignory, minister at the beginning of the reign of Louis XV.
The front lock plate is topped by a count's crown. The key has the particularity of releasing the pennes one after the other.
The box rests on four iron ball feet, the interior is lined with blue silk braided with silver.