Louis René Luce, Allegory of Printing
Height: 39.5 cm
Width: 28.5 cm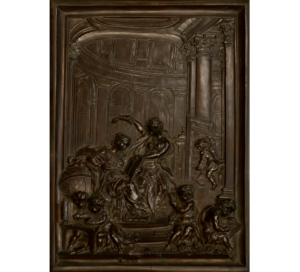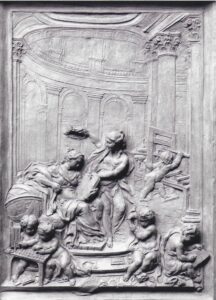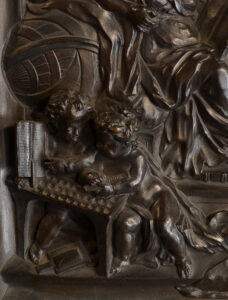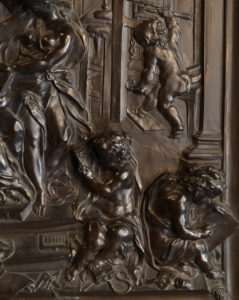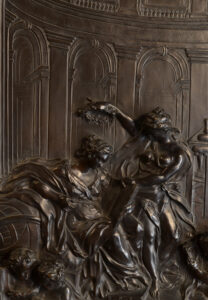 Louis René Luce, Allegory of Printing
Height: 39.5 cm
Width: 28.5 cm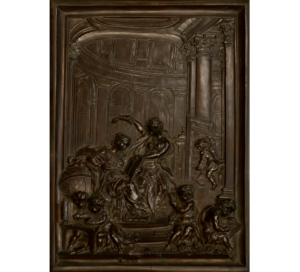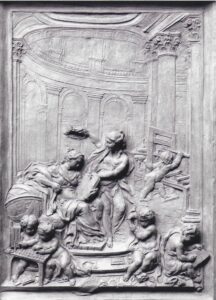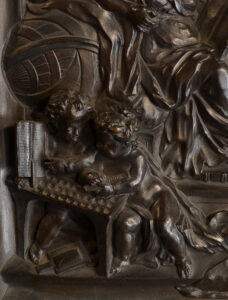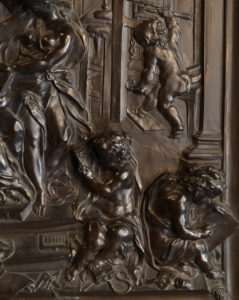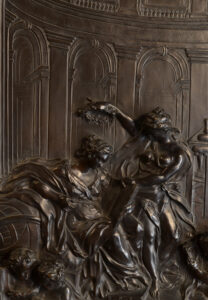 Louis René Luce, Allegory of Printing
Height: 39.5 cm
Width: 28.5 cm
A rare bronze bas-relief representing an allegory of science and printing, by Louis René Luce, circa 1744.
This delicate relief shows a seated woman, leaning against a globe and her feet resting on an in-folio, crowned with laurel by another female figure who is pointing with her left hand to an open book.
Around the two women are several groups of children illustrating the various processes involved, particularly composition and printing.
The figures stand out against a very low relief background representing a two-level rotunda.
The plate is signed in engraving in the lower left corner L. Luce in et fecit and titled on the right Les sciences et l'imprimerie.
Louis René Luce (1695?-1774) was the king's engraver at the royal printing house. This sculpture is the only one known to illustrate his talents, which were also shown in an essay on a new typography that he illustrated (1771).
This work is mentioned in 1906 through the sale of the terracotta model which bore the date 1744 (sale at Drouot, 27 November 1906, mentioned in Lami, Dictionnaire des sculpteurs de l'école française au XVIIIème siècle, 1910-1911). This date is quite consistent with the rocaille style of the attitudes, faces and draperies, which contrasts with the classical austerity of the architecture, appropriate to the main scene.
A later print (1761) of the same subject by the same author also shows the stylistic evolution of the same composition. Although the figures are generally in a similar position, the attitudes are clearly more posed and stiff, and the decoration is resolutely more ornate and full of neoclassical garlands, in the manner of the ornamentalists of the 1760s. This engraving is also useful for reading the subject, which represents precisely
The Printing Office presents to the sciences a proof and the crowns (sic) to the temple of memory.